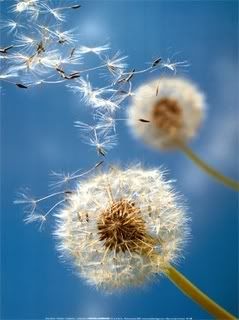 "So put your hand in the hand of mine, and we'll spread this love like dandelions." Toby Mac
Yesterday I spent some time on one of our message boards and participated in a discussion about love relationships. It was quite disturbing to read what some had to say about what had happened to them over the years, how they'd been bitterly disappointed, had loved and lost. To those who dared to post they were happy, the response was basically, "Yeah, maybe you're happy now, but just you wait..." Apparently it's naive and unrealistic to hope that our love is real, that it will last, that committment is meaningful...
Frankly, it shook me up to see what was said there, and I'm not really eager to go back and pay the board a visit, or at least a very long one. Sure, this morning I nabbed a good recipe that was shared by one of the posters, but I didn't venture much further down the page. I don't want to read about the dissolution of someone's marriage that's happening right now. I don't want to delve much into the sordid details and carry the sadness, then thoughtlessly let it spill onto the man I happen to love with my whole being.....because that's what happened last night. I tend to share my thoughts and ask what he thinks about it all, and before I knew it, I'd burdened him with my "lack of happy." That wasn't good.
So, this morning my hope is restored.
I've put my hand in his, and we're going to make like dandelions...
Shawn
***